Overview
You can now offer the ability for people to purchase online gift certificates directly through your myTurn site: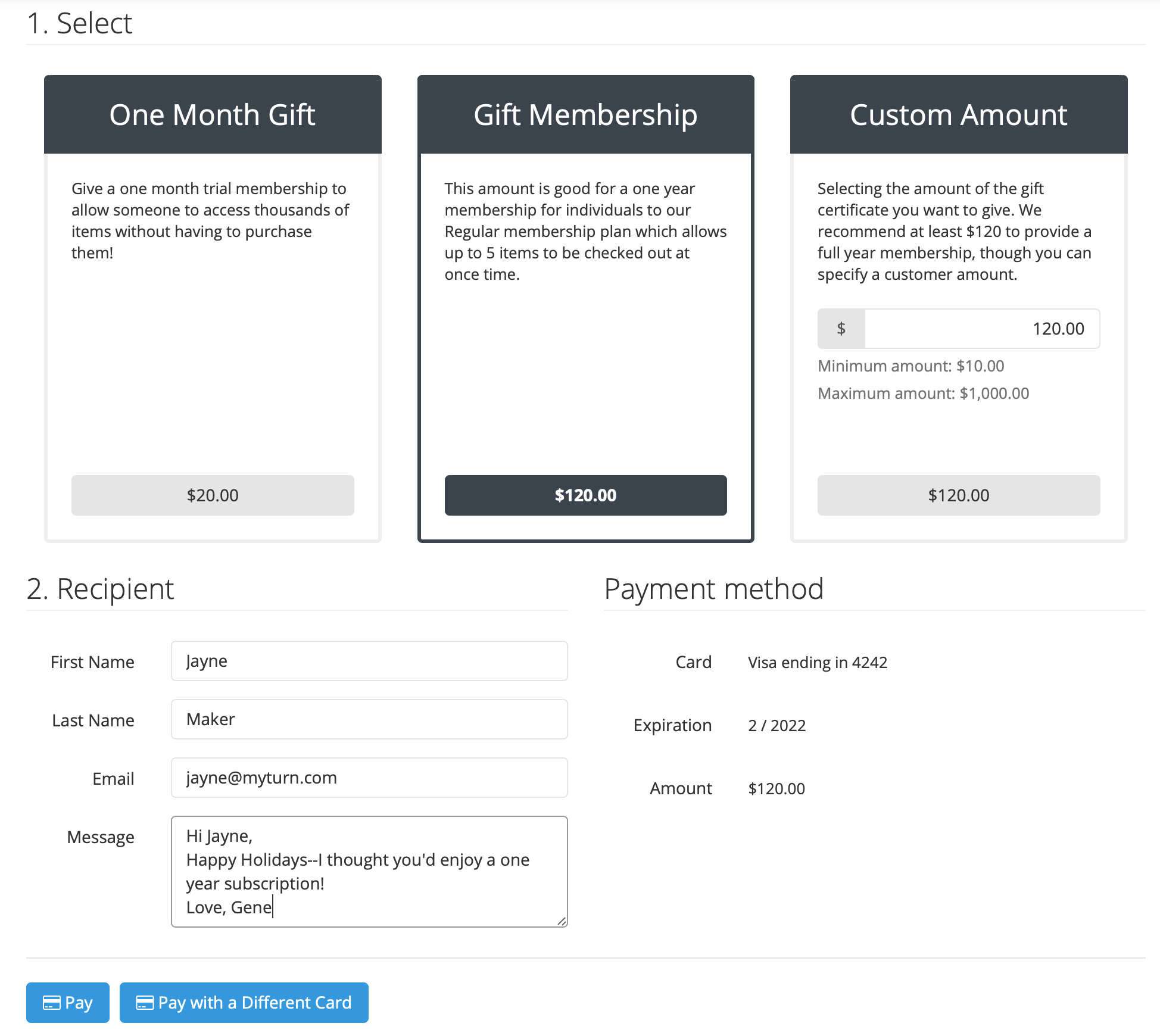 Gift Certificates will be emailed to the address of the recipient or can be displayed and printed. Printed certificates will include both a code that can be manually typed in and a "QR Code" that most smartphone cameras can read and take the recipient right to the page where they can redeem the certificate.
Purchasers can, but do not have to be, members/have accounts with your organization. If they do not already have an account, they will be required to fill out basic purchaser contact information in addition to paying via card online.
Redemption
Users will need to log in or create an account before they can redeem their certificate. When they redeem, the amount will be added to their account as a credit that they can spend on membership/subscription or other fees.
Configuring Gift Certificates
You can add and enable/disable gift certificates by going to:
Settings > Financial > Gift Certificates
Note that you must be connected to our payments processor (Settings > Financial > Online Payments) to offer gift certificates and allow them to be purchased online. You can add one or multiple Gift Certificates that can be fixed prices or allow purchasers to specify the value they want to purchase.
The first time you go to the Gift Certificates administration page, you will want to Add New (or you can edit an existing one):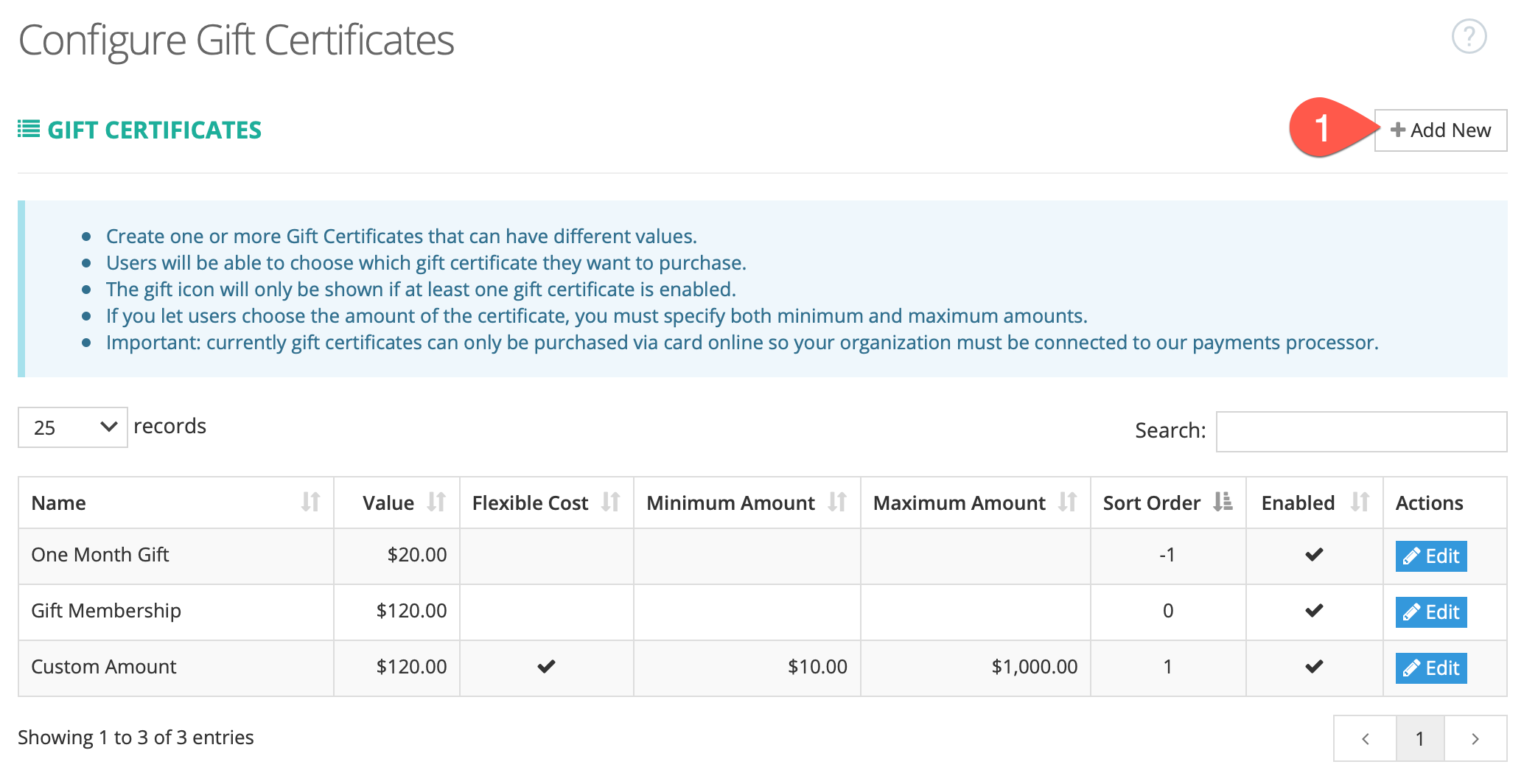 This will bring up the editing page where you can configure your gift card: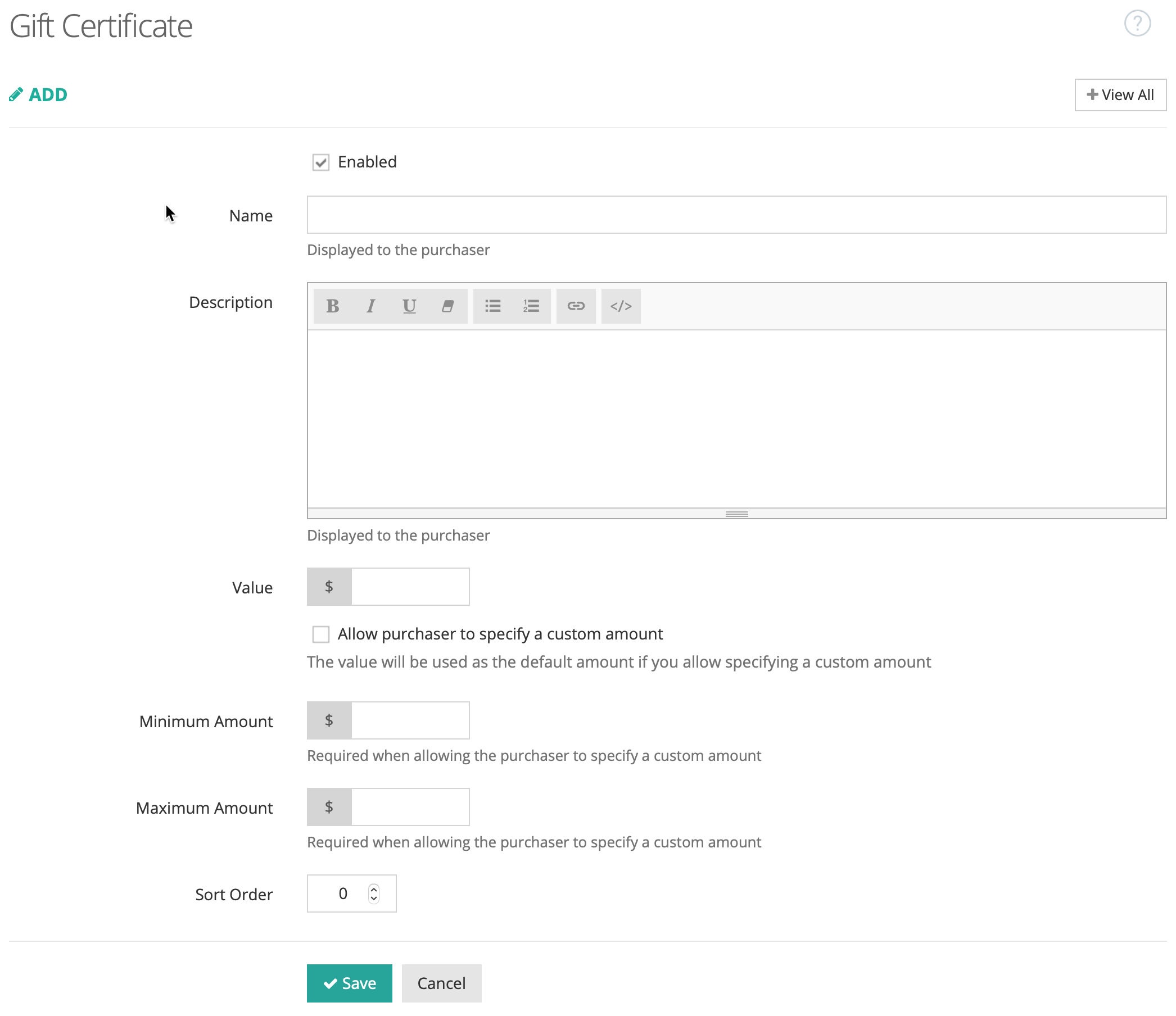 You can specify:
Enabled: uncheck this box if you do not want to offer this type of gift card (yet) or if you want to remove it from your site. You must have at least one gift certificate enabled if you want to offer the sale or gift certificates.
Name: this is the name of the gift certificate that will appear in the header of the gift certificate
Description: the description will appear below the header
Value: how much this gift certificate costs (the cost and value of the gift certificate must currently be the same, for example, you can't sell discounted gift certificates at this time)
Allow purchaser to specify a custom amount: if this is selected the purchaser will be able to specify the amount they want to spend
Minimum and Maximum Amounts: this sets the range the purchaser can specify and these must be set
Sort Order: this allows you to sort the gift certificates (we'll be adding drag and drop sorting soon)
A few examples of how the options will display to the purchaser are below. The first two examples use fixed amounts, while the third allows the purchaser to specify how much they want to give:

Viewing / Purchasing Gift Certificates
Once you have at least one gift certificate configured and enabled, you can view and purchase gift certificates by clicking on the Gift 🎁 icon that will appear at the top of your myTurn Public Site: